CLEVIS HANGER WITH SHIELD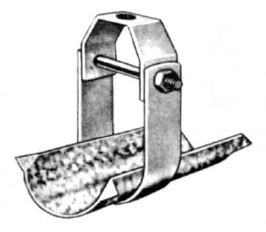 * SIZE AVAILABILITY: 1-1/2"thru 20" Hangers.
* FINISH: Black, Galvanized
The Clevis Hangers wih shields are used for insulated pipe or tube to prevent cutting or crushing of the covering at the pipe hanger point.
Shields are made from 12, 14, 16, 18, 20 and 22 gauge galvanized steel.
The hangers are regularly furnished black. Can be furnished galvanized.
Shields and hangers are welded together (591 + 344 thru 10" ; 590 + 344 above 10").
Hangers and shields welded together allows for hanger installation before the pipe or tube is
insulated.
Hangers can be furnished with 8", 12", 18" and 24" long shields.
"Selection Table" assures of ordering correct hanger size for insulated pipe.
Complies with Manufacturers Standardization Society SP-69 (Type 1 Type 40).
* ORDERING: Specify shield size, hanger size, figure number and give pipe (tube) size and thickness of covering.