CLEVIS HANGERS
IRON PIPE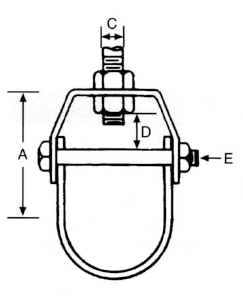 *SIZE AVAILABILITY: 1/2" thru 30"
*FINISH: Black, Galvanized
COPPER TUBE
* SIZE AVAILABILITY:
1/2" thru 6".
* FINISH:
Electro copper plated.
The Clevis Hanger provides a vertical adjustment of 1-1/2". By adjusting the lower nut, the pipe line is assured of proper pitch. The top nut locks it in place.
This feature allows for adjustment before or after piping is installed.
Nuts are not included with the hanger and must be ordered separately.
Recommended use with stationary pipe lines and copper tube lines.
Made from carbon steel.
The top half of hanger is fitted over the outside of the lower u-strap, giving it added strength.
Complies with Federal Specifications WW-H-171b (Type 1) and WW-H-171e (Type 12).
Similar application compliance to MSS Type 1.
NOTE: Nuts and washers need to be used on both sides of the top part for proper installation.
* ORDERING: Specify iron pipe or copper tube size, figure number, name and finish.